Hello,
I have a number of projects that I'd like to assemble on the timeline, one after the other, so that I can tweak the individual events.
I thought that this is what nested projects is all about, but when I import a project into the timeline, all the video events collapse into a single track. How do I prevent that from happening so that I get exactly the same layout as in the (nested?) project?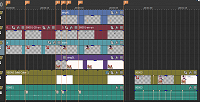 Each project looks a bit like the one on the left. When I import/insert the other project, it looks like the one on the right. I'd like all the imported projects to look like the one on the left.
How do I do that?
Thanks :)