I've been dealing with this problem in Vegas since version 10 when whoever was writing code back first screwed up the "automatically save trimmer markers and regions in media file" option. IF YOU DON'T WANT TO DO IT RIGHT, THEN JUST GET RID OF THE MARKERS ALL TOGETHER!!
I create hundreds of these markers hoping, and I do mean hoping that it will work correctly.
This is just a small sample of files with the corresponding sfl file neatly stored together like everything will be perfect. But of course it won't.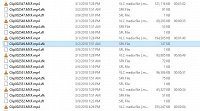 Here is the last file in the above list in my trimmer. Notice Vegas 15 can't figure out how to display the ##$#$$$ markers that it created itself in Vegas 15.

SO JUST GET RID OF THEM PLEASE!! DELETE THEM FROM THE SOFTWARE BECAUSE CLEARLY YOU DON'T CARE ABOUT THEM AND HAVEN'T SINCE VERSION 9!