Hello everyone! I am having some installation issues with Sound Forge Audio Studio and was wondering if anyone else was having similar issues and knew how I could get in touch with someone to fix it?
Basically, at some point my copy of Sound Forge just... Switched to trial mode (not sure how or why) and now my code is not working.
I have the Vegas POST 365 Suite (paying monthly) and Sound Forge is included in the download on that product page: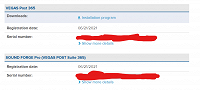 The install file that I get from clicking the "Installation Program" gives me Sound Forge Audio Studio 16: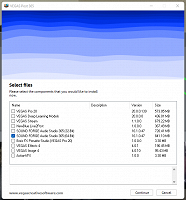 When I enter the code I get this: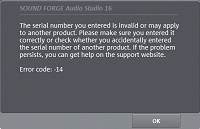 I thought that MAYBE I was supposed to download the PRO version and that the installation that comes with is not correct (since my product page says "Sound Forge PRO" on it), however after downloading the trial version of that I get the same error: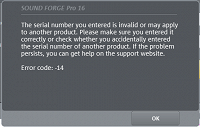 I've sent an email through the support portal a little while ago and haven't heard back yet (they may still reply, I'm just a tad impatient since I'm paying monthly for this thing and they don't have any kind of dedicated line to solve this issue that I could fine).
I've uninstalled and reinstalled the program and I've tried using older versions (13 Audio Studio, 15 PRO), and I've checked to make sure that I deactivated any old computers that used that code so it's fully available to be added to a new computer. Looking up this issue hasn't given me any real leads (mostly everyone goes to the "oh you're using the wrong registration code or wrong program" which isn't the case for me as this code USED to work and now kinda just doesn't).
Thank you all so much in advance for helping me out!