So far tested this new lossless codec with GTX 1070 on my laptop, using a 10s UHD 25fps test clip, straight from camera. Only managed to render to FHD, all attempts to render to UHD gives a zero byte file.
One other thing I noticed, near the very end of the FHD h264 clip playback, an artefact is present, but not in the hevc rendered clip.
Ok, tested on PC, uses an RTX 2080 Ti. The good news is there are no artefacts on the h264 or hevc FHD lossless renders.
The bad news is the PC and laptop simply render out zero byte files when attempting to render to UHD.
Since I couldn't render out to UHD for testing PSNR and SSIM as previously, I made a FHD version of my UHD source file and then did a few tests, ffmpeg was used to get SSIM and PSNR results.
I could only render out to FHD Hevc, rendering to FHD h264 again caused zero byte files.
Results below ...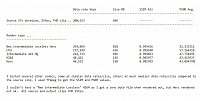 Unless I'm doing something wrong, this "lossless intermediate" is turning in some pretty poor results.
Later discovered there were artefacts in the lossless output file, so ignore the results above for the lossless file.
I downloaded a VP17 trial for my older PC (i7-4790K, GTX 1080 GPU, HD 4600, iGpu) just to test this lossless intermediate issue. Drivers .. Intel 20.19.15.5058, Nvidia 26.21.14.3170. I tried a test render from a 57s UHD clip to FHD, it rendered out ok but had artefacts in it. When I rendered this same clip on my main PC, UHD to FHD, see profile, I get a zero byte file.