I typically stick to Samsung, Western Digital/Sandisk and SK Hynix brands when it comes to purchasing SSDs. When I was configuring my new laptop it has 2 Gen4 NVMe SSDs slots where I purchased 2 2TB Samsung 980 Pro SSDs. One for OS and program(C-Drive) installs and the other as my data, media and project working drive (D-Drive). I really would have preferred getting a 4TB SSD for the Data drive since 2TB is on the edge of what I typically feel I need on the data storage drive.
Samsung and SK Hynix have yet to come out with 4TB NVMe SSDs and Western Digital's prices on their Black SN850x I felt were a little too high for my comfort level where they were $100/TB and going prices on similar 2TB models were coming in at $50/TB. Originally $400 for the WD when I was building my laptop but have recently dropped to $300 which I was starting to consider purchasing.
In my shopping, I came across the Fanxiang S880 4TB Gen4 SSD for $180 which was more in my comfort zone of price I was willing to pay but obviously took into consideration it may be junk or unreliable, so did a lot of deep digging of going through many user reviews and digging into specs. Learned along the way it is built with a MAP1602A controller and YMTC 232L (X3-9070) TLC NAND flash which is a controller and Nand flash combo used by many other top tier SSD brands, known for their speed and reliability. It also boosts 2800TBW drive life and a 5 year warranty although warranty isn't something I ever take into consideration since it often becomes too much of a hassle to go through the warranty process.
I decided to take the plunge since I'm in the beginning stages of getting my laptop fully setup with programs, preferences and decided it was best to switch the data drive sooner rather than later. What ever happened to Samsung being one of the top tier SSD developers? I know they had some troubles with the 980 Pro but has been fixed through firmware. Currently they don't even make a 4TB SSD in an NVMe package while other manufacturers are releasing 8TB NVMe SSDs and Gen5 SSDs?
So far out of the gate just running some speed tests and transferring the data over from my original Samsung D drive, I have been impressed with the Fanxiang S880 SSD. Its speed was faster than the Samsung 980 Pro I was replacing on the same system. Longevity and reliability, the jury is still out and is the reason I'm making this post to the Vegas community to see if anyone has had any experience with this brand while I'm still within the Amazon return window. 😉
Samsung 2TB 980 Pro Gen4 NVMe speed test results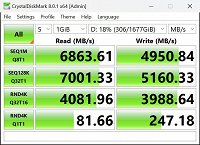 Fanxiang 4TB S880 Gen 4 NVMe speed test results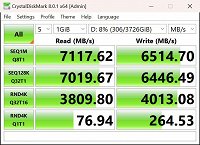 https://www.amazon.com/dp/B0C6DL33T5/?coliid=I27QUN2WZA2709&colid=60DORVO8NS3V&ref_=list_c_wl_lv_ov_lig_dp_it&th=1