Here I have 2 different project.
1.The first one is simple project. The video have color grading OFX, music & got a mixtures of 4K 25FPS & 1080p 100FPS media (Shot on Sony a6500 camera).
My GPU is running around 20-40%, sometimes is spike all the way 70%.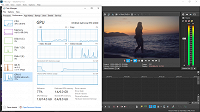 2. The second project I would say fairly simple as well, just bunch of layer with a mixture of ProRess & HEVC media. All was shot in 4K & 4K DCI 50FPS in 10bit color depth (Shot on ZCAM). All media have Color grading OFX for now, But my GPU is only running below 10%?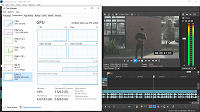 I have latest GeForce driver, I've switched between Game Ready & Studio Driver & the result still the same. I already make proxy for all media. Im using the latest VEGAS Pro 17 build 421.