Just got around to benchmarking Vegas 17 build 421 on my workstations and came up with a 4k HEVC variation on the original Red Car benchmark. Here's a comparative summary of stats for my i9-9900k/Radeon 7 machine: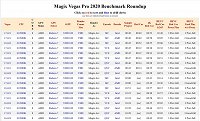 What I did was take the original Red Car project, unchanged, except for media substitution. I transcoded the original Mercedes clip #2 to HEVC. For clips #1 and #3 I swapped in some HEVC footage of my back yard taken with a zCam E2 adding a Camera and grading LUT as a media fx. In addition to render timing, I also noted the ability to play the HEVC project with proxies as well as the ability to play the zCam footage+LUT alone without proxies, listing the maximum preview quality with no drop in frame rate.
The html version of the above table also includes my xeon/RX-580 machine which I plan on updating with stats from some of my other machines when I get a chance.
I've put a zip with all the files in it on a google drive here if anyone wants to report numbers for their systems... I'm particularly curious how some of the Nvidia boards compare.