Hello together,
many filmmakers love to use DVDA to produce projects with menus and chapters from Vegas pro. This is currently not possible for UHD content. The feature to jump at least to selected chapters would be very welcome to many users.
The transport stream, used in BD-ISO structures seems to be not a good basis for many UHD-players to directly jump to chapter position in the video. The MP4 container is much better suited and allows also for chapters and subtitles.
The tool Drax is one of the programs I tested to set chapter information into the Vp14 UHD HEVC (*.mov) output. The file extension of the Vp14 HEVC encoder may either be changed to *.mp4 or the file selection in Drax can be set to 'All (*.*)' for the input to Drax.
Vegas pro 14 does not output chapter information (*.sfl files) when rendering to Intel HEVC. So I extended my ExportMarkerSFL tool for Vp14 to export also a *_Chapter.txt file, that can be used with Drax to import the markers set in the Vegas pro projects. The ExportMarkerSFL.dll and ExportMarkerSFL.dll.png must be copied into the Vegas pro 'Script Menu' folder.
When importing the chapters to Drax, you must select the first format option (blue) :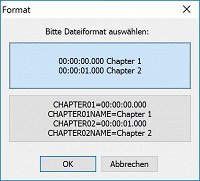 When this has been done and the file has been saved you should use the 'File/Optimize' function od Drax to a new file, that will remove the 'free' box and rearrange the internal MP4 structure for faster access of the chapter information.
For the next Vegas pro version I would wish to see an Intel HEVC render option to 'Save project markers in rendered media file' as currently available for Sony AVC encoder and that these markers are embedded into the MP4 file structure like Drax it does.

Links / Downloads
Edit (the file on the developer site is no longer clean):
Here on VideoHelp you may try to download the mirrored version : Download Drax 1.6.5.0  [5.8MB]  [Win]
http://www.videohelp.com/software/Drax
ExportMarkerSFL.zip
https://www.magentacloud.de/lnk/Adm4MPFQ        Password 20Dec2016
UHDp30 HEVC Sample with Chapters
https://www.magentacloud.de/lnk/uZG4sA2U         Password 19Dec2016