Vegas LUT Filter does not recognize LUT file in path with special characters.
If the path of the LUT file has any special characters the LUT file is not acknowledged and the Vegas LUT Filter shows the error below.
My language is Portuguese and in this example the original path written in portuguese is D: \ Trabalhos \ Gravação \ LUT
The characters "Ç" and "~" cause the error.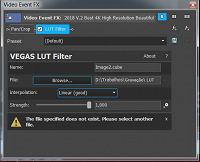 When the path is renamed to D: \ Trabalhos \ Gravacao \ LUT (without the characters "Ç" and "~")
The LUT file is recognized and applied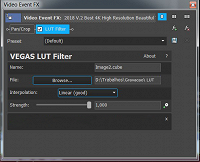 Tested in Vegas Pro 15 Build 261, 321 and 361