Hello together,
during Mai 2014 I wrote a Vegas pro custom command to automatically apply Mercalli 2.0 FX to video event and let it be analyzed. In September 2015 these functions have been adapted to the Mercalli v4 FX. Now that Vegas pro 14 is available, I enhanced this automation tool and added some features.
You now may select a preset or use the tuned settings of an event that already has adapted setting to be applied to the next events. Specify the number of events to add the Mercalli v4 FX and let it automatically be analyzed.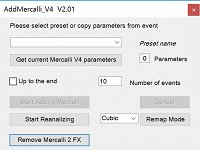 The Remap Mode 'Cubic' provides the best quality results. However, it requires a lot of power and may result in non real time preview. So you may change it in all Mercalli v4 events to 'Linear' or 'Nearest' during editing and change it back to 'Cubic' for final rendering.
You only may have one Mercalli stabilization FX on each event. If you want to use a pre Vegas pro 14 project with Mercalli 2.0 FX, use the 'Remove Mercalli 2 FX' to do so starting from the selected video event.
The AddMercalli_V4_2.01.zip file contains a brief description as a pdf and the two file that need to be copied to the 'Application Extensions' folder.
This tool is for free but with no obligation of any kind to me.
Edit 04Nov2016
The current functionality of V2.01 was adapted to be used with Vegas pro 13.
Edit 05Aug2019 V3.01
The tool was extended with some features and now can be used for the new event based Vegas Pro 17 stabilization. It can still be used for older MAGIX Vegas Pro versions, but will there only use the Marcalli v4 stabilization.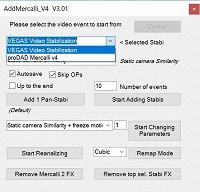 DJI Osmo Pocket clips are normally very smooth and may optionally be skipped. Detailed description can be found in the PDF of the ZIP file.
Edit 09Feb2020 V3.12
I have added two functions to AddMercalli_V4 ( & VEGAS Video Stabilization).
The VEGAS Video Stabilization already tries in 'Freeze motion' mode to reduce the 'additional Zoom' by selection the best fitting reference frame number. This is very close to the optimum, while on some footage the additional zoom may still be reduced a tiny bit. This is now easy possible with the newly added 'Reduce add. Zoom' in AddMercalli_V4 by n% and x-count of events, starting from the selected. Use '0' to apply this change to all following events with Freeze Motion stabilization.
On some static clips with non motion at all, it may be stabilized with the event 'Freeze Frame at Cursor' function. If this is applied, there should not be any other additional stabilization FX. The new version 3.12 skips events using this kind of stabilization.
Edit 24Mar2020 V4.01
The user interface was restructured and an Auto-Stabilization, that selects the parameter presets according to the scene content, is newly added. This can be used with the Vp17 internal stabilization FX or with the Mercalli V4 plugin starting from Vp14.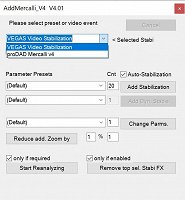 Edit 09Jun2020 V4.02
The user settings are now saved to an *.ini file and restored on next start.
Detailed description can be found in the PDF contained in the ZIP file.
Release History AddMercalli v4 for Vegas pro 14+:
Initial Release 31.Oct.2016 AddMercalli_V4_2.01.zip
Update 26.Sep2017 AddMercalli_V4_2.1.0.zip
Update 15.Jan2019 AddMercalli_V4_2.1.4.zip
Update 05.Aug2019 AddMercalli_V4_3.0.1.zip
Update 09.Feb2020 AddMercalli_V4_3.1.2.zip
Update 24.Mar2020 AddMercalli_V4_4.0.1.zip
Update 09Jun2020 AddMercalli_V4_4.0.2.zip
Update 02Oct2022 AddMercalli_V4_4.0.4.zip
Update 18Dec2022 AddMercalli_V4_4.05.zip for Vp17+
Release History AddMercalli v4 for Vegas pro 13:
Initial public Version 30.Sep2015 AddMercalli_V4_1.00.zip
Update 04.Nov2016 AddMercalli_V4_Vp13_2.02.zip
 
You may download these files from this location using the password : '02Oct2022' (without quotes - do not use cut&paste)