please be gentle...
I would normally search for the answer to this, but I don't even know the name for it / what it is. I've been stuck with it for 4 days up to now - schoolboy error no doubt - probably a single setting I've switched on by mistake.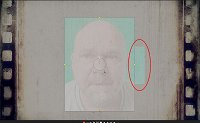 I'm using Vegas Pro 365.
When I try to "VEGAS crop", and many of the other tools, there is always this extra layer, behind my video, that interferes with what I'm trying to do. I can't select or delete it, in fact I don't know what to even call it. The image is a cropped extra piece of the primary video.
I've tried different video's from my camera, recorded and streamed (using Vegas stream), different resolutions / aspect ratios etc. Note this is directly after I copy my unedited video to the timeline - there are no effects in the chain. Hope someone can help.