I'm discovering how limited my current computer system is for editing quality 4K footage. I am complicating a new system but the last thing I want is to spend a couple thousand dollars only to find out I have a mother board or video card that doesn't work well with Vegas 17 Pro. What is the best guidance to build or buy a new system. Has anyone purchased a brand name system that works well? Can I post a proposed system specs here for review?
Below is my current system. I'm all ears if anyone sees low hanging fruit I could fix on this.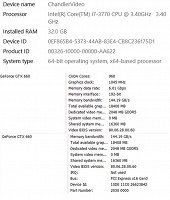 Last summer I changed out the graphics card to a Radeon RX 580 thinking that the current thinking on this board was that Radeon was more stable than Nvidea.