1. PROJECT PROPERTIES
Make sure your Project Properties match the your media properties. By default, when you first drop media on the timeline you will get a prompt like this:

In most cases you should answer "Yes". I also checked the box so that I am not asked again. If you want to change this setting later, it's in "Options" > "Preferences" > "General" tab: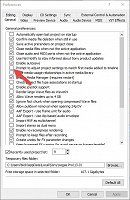 To manually adjust the project properties, click the button at the top right of the "Project Properties" window and choose a typical media file that you wish to match. Note also the "Best" setting for "Full-resolution rendering quality", which I always set.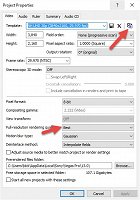 2. RENDER FRAME RATE
As a general guideline, render with a frame rate that is the same as your source media, or half of it (or 1/3, 1/4 etc.). i.e. Render 59.94fps footage at 59.94 or 29.97fps.
VEGAS assists you by highlighting render formats that are a match for both your frame rate and your resolution with a "=" sign: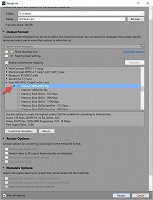 3. DISABLE RESAMPLE
If your project and render properties both match your frame rate and you are working with full-speed footage only, this should not be necessary. In other cases it can improve the sharpness of the rendered video.
A guide to disabling resampling in VEGAS Pro is here.
Note that in some cases such as slow motion the result might look worse if you disable resample. Chienworks explains the options here.
Disabling resampling can also improve the preview playback smoothness of your timeline.
4. DISABLE GPU ACCELERATION
VEGAS' GPU acceleration is often responsible for all sorts of weird problems with the appearance of video. Try turning it off in "Preferences" > "Video" > "GPU acceleration of video processing". You will need to restart VEGAS afterwards: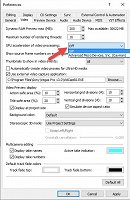 If you are rendering with the MAGIX AVC/AAC encoder (VEGAS Pro 15 and later), try turning GPU acceleration off in "Render As" > "MAGIX AVC/AAC MP4" > "Customize Template" > "Encode mode". Set it to "Mainconcept AVC", which uses CPU only: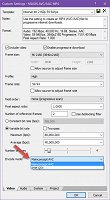 If you are rendering with the MainConcept AVC/MVC encoder (VEGAS Pro 14 and earlier), try turning GPU acceleration off in "Render As" > "MainConcept AVC/MVC" > "Customize Template" > "Encode mode":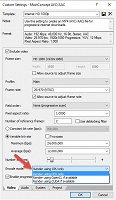 If you are rendering with the Sony AVC/MVC encoder, try turning GPU acceleration off in "Render As" > "Sony AVC/MVC" > "Customize Template" > "Encode mode":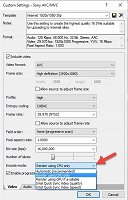 If you are rendering HEVC then try using the Intel HEVC encoder instead of the AMD-or-NVIDIA-only MAGIX HEVC encoder, and try disabling QSV hardware acceleration in "Render As" > "Sony AVC/MVC" > "Customize Template" > "Encode mode". Note that it will be SLOW: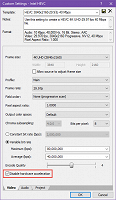 5. BLACK FRAMES
If you are getting black frames on the timeline or in the render, try restarting VEGAS immediately before rendering, and don't do anything else before rendering.
6. ENOUGH BIT RATE?
If the rendered video is blurry or showing pixellation, blockiness etc., you may need to increase the bit rate when you render. For many formats the bit rate can be adusted by clicking "Customize Template" in the "Render As" window. Alternatively you may be able to select a higher quality template. See this post for improving the quality of AVC (H.264) renders.
7. IS THE CONTRAST WRONG?
If the rendered video has more (or less) contrast than you were expecting, read this post.
8. ARE YOU MONITORING CORRECTLY?
If you are putting your rendered video back into VEGAS to judge it's quality, it may be that you are simply using a low preview quality such as "Draft (Auto)". Try a higher quality such as "Best (Full)".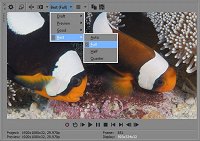 9. IF YOU NEED FURTHER HELP
The following information will help forum members to diagnose your issue and help solve it. Please start a new post.
What is your target delivery medium (e.g. YouTube, self-hosted web video, USB drive for TV, DVD, Blu-ray etc.), resolution and frame rate. If it's for DVD or Blu-ray, what territory is it for display in?
What version and build of VEGAS Pro you are using ("Help" menu > "About...").
What version of Windows are you using (in Windows 10 search "About your PC" for the version number)?
How your source media was generated (i.e. what camera or program) and what format/codec was used (if you know)?
Post the MediaInfo text report of your source media.
Post the VEGAS Files Propertes of your source media (the MediaInfo guide linked above shows you how).
If the media is not too large you could post a link to a sample of it on a service such as Google Drive, Dropbox, One Drive, Mega.nz or MediaFire.
Post your project properties. Ideally you would post a screen grab of your "Project Properties" window as in #1 above.
Post the render settings you have tried. Which Output Format (encoder), which Template, and any Custom Settings you applied to it.
Post the exact symptoms of what is wrong with the rendered video. If possible, upload a sample with your post (using the arrow in the blue circle) or post a link to it or post a screen grab from it.
Does the problem appear in your VEGAS Pro project's preview window, or only in the rendered video?
What brand and model of graphics card do you have?
What graphics card driver version are you using (If you don't know, see Control Panel > Device Manager > Display adapters > right click your adapter > Properties > Driver > Driver Version)?
What setting are you using in Options > Preferences > Video > GPU acceleration of video processing?
 
You can also submit a support request, including as much detailed information about the problem as you can.
10. RELATED POSTS