Your preview playback frame rate is displayed below the preview and in some cases it may be less than your project frame rate, causing the picture to stutter or lag.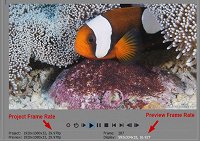 There are a number of things you can try to improve the smoothness of your preview.
1. REBOOT THE COMPUTER
Try this first to clear caches etc., especially if you don't routinely shut down your PC.
2. MATCH PROJECT PROPERTIES
Make sure your Project Properties match the your media properties. By default, when you first drop media on the timeline you will get a prompt like this:

In most cases you should answer "Yes". I also like to check the box so that I am not asked again. If you want to change this setting later, it's in "Options" > "Preferences" > "General":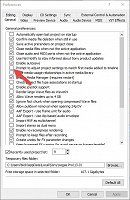 To manually adjust the project properties, click the button at the top right of the "Project Properties" window and choose a typical media file that you wish to match.
3. DISABLE RESAMPLE
If your project frame rate does not match the frame rate of the media on your timeline, VEGAS Pro will resample it (combine frames) unless you disable resampling. This increases the load on VEGAS and reduces your chance of smooth playback. In many cases it can also adversely affect the quality. As an example, disabling resampling made a big difference in playback frame rate on my 30p timeline containing 60p footage.
A guide to disabling resampling in VEGAS Pro is here.
Note that in some cases, such as slow motion, the result might look worse if you disable resample. Chienworks explains the options here.
4. PREVIEW QUALITY
Don't use higher preview quality than necessary. e.g. "Preview (Auto)" might be adequate rather than "Best (Full)". Test the options for your own media, preview window size, and monitoring method. In some situations the quality difference can be negligible. For example "Preview (Full)" may look just as good as "Best (Full)".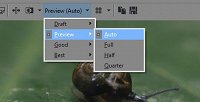 If you wish to automate the selection, right-click on the preview window and check "Adjust Size and Quality for Optimal Playback". Then the preview quality will be dropped in an effort to achieve full frame rate.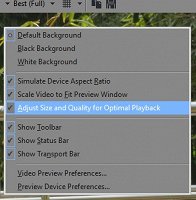 The preview quality does not affect the final rendering quality, which always uses best quality.
5. HARDWARE DECODING
VEGAS Pro 17 and later can utilize NVIDIA NVDEC, AMD UVD/VCN, or Intel QSV to decode AVC and HEVC video. If you have a GPU or CPU that includes these features, try enabling one of them in "Options" > "Preferences" > "File I/O":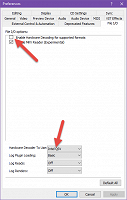 6. GPU ACCELERATION
Enabling "GPU acceleration of video processing" in "Preferences" > "Video" can make a huge difference to playback smoothness if you have a suitable graphics card. But it can also cause problems. More information here.
7. DEINTERLACE METHOD
If you are working with interlaced footage, in "Project Properties" try setting "Deinterlace method" to "Interpolate fields" (unless you specifically want the smart adaptive deinterlacing in VP14 and later). "Blend fields" can slow down playback.
8. REDUCE PROJECT RESOLUTION
The timeline should play more smoothly if you reduce the resolution of your project. This is especially appropriate if you are editing UHD (3840x2160) or 4K footage and you do not have a UHD or 4K monitor. The resolution is set in "Project Properties" > "Width" and "Height". Try matching them to your monitor resolution, for example 2560x1440 or 1920x1080. Reset your project to either the source media resolution or desired output resolution before rendering.
9. REDUCE PROJECT FRAME RATE
If you are editing high frame rate footage, try halving the frame rate in "Project Properties" > "Frame rate". For example change 50.000 to 25.000 and 59.940 to 29.970. The result will be nearly the same but with a slightly less "real", "video" look. Reset your project to either the source media frame rate or desired output frame rate before rendering.
10. PROXY EDITING
Proxy editing means switching your full-quality source media for lower-quality proxy media while you edit, then switching back to the full-quality files for rendering. A format is chosen for the proxy that can be quickly decoded by VEGAS and smoothly edited. There are various workflows available for proxy editing in VEGAS Pro:
9a. VEGAS Pro XDCAM EX Proxy Workflow
1280x720 XDCAM EX proxies (with a .sfvp0 files extension) can be easily created in Vegas Pro 13 and later by right-clicking the clips in the Project Media window and choosing "Create Video Proxy" from the shortcut menu. The proxies will only be shown when the preview quality is set to Draft or Preview, and display quality is further reduced as VEGAS detects the .sfvp0 extension. The proxies will not be used for rendering.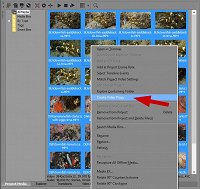 The process can be automated for UHD media by checking "Preferences" > "Video" > "Automatically create video proxies for Ultra HD media".
For more information see the "Creating proxy files for high-definition editing" section in the VEGAS Pro help.
9b. VEGAS Pro Swap Video Files
VEGAS Pro 15 build 216 introduced an alternative proxy workflow, whereby you can swap all of your project media video files for video files with the same names (but potentially different file extensions).
To create the proxy files, use a batch rendering method to render files that play more smoothly than your originals. VEGAS Pro includes a batch render script accessed via Tools > Scripting > Batch Render. You could also use Vegasaur Transcoder or Happy Otter Scripts RenderPlus or AviDub from within Vegas, or use an external converter such as Xmedia Recode or Handbrake. Put the proxy files in their own folder and give them the same root name as the originals, but not necessarily the same file extension. For example you might render 001.avi from 001.mp4.
To swap the files between the originals and the proxies, highlight them in the Project Media window and choose Swap Video Files.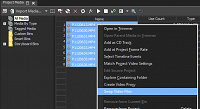 You can also swap the files from the proxies to the originals at render time, under the Render Options:
9c. Happy Otter Scripts ProxyAssist
The ProxyAssist script within Happy Otter Scripts provides a way to build proxy files either via VEGAS Pro's native rendering interface, or via the open source x264 encoder. The files can be swapped either on its main interface or using the separate ProxySwitch script.
9d. Vegasaur Proxy Media Builder
Vegasaur's Proxy Media Builder is another way to create proxy files in various formats, and the 3 scripts in this comment (from the Vegasaur developer) enable a smooth workflow for switching between the original files and the proxies.
9e. Legacy Proxy Plugins
The fine Gearshift and Proxy Flow scripts could be used in older versions of Vegas Pro but are difficult to get hold of now. Proxy Flow will run for me in VP10 but not in VP12 or later.
11. BUILD DYNAMIC RAM PREVIEW or SELECTIVELY PRERENDER VIDEO
If a section of your video has complex compositing, transitions or FX that cause stuttering, you can preview it more smoothly by creating a loop region and using one of these options:
a) To render the loop region to a temporary file to your hard drive, select "Tools" > "Selectively Prerender Video", or press SHIFT+M on your keyboard. You can delete the files up later with "Clean Up Prerendered Video".
b) To build a full-resolution preview of it in RAM, select "Tools" > "Build Dynamic RAM Preview", or press SHIFT+B on your keyboard.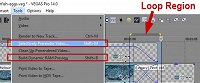 The amount of RAM allocated to Dynamic RAM Preview is set in "Preferences" > "Video" > "Dynamic RAM Preview max (MB)":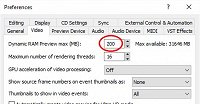 Increasing Dynamic RAM Preview max above 200MB may make VEGAS slow down, particularly before version 14.0.
12. ADJUST DYNAMIC RAM PREVIEW MAX
Many users have found improvements in VEGAS Pro performance by adjusting the Dynamic RAM Preview max (MB) value, even if they are not building dynamic RAM previews. Values ranging from 0 (especially in older versions) to several thousand MB have been reported as optimum. Test for your particular system by making modest increments at first. It may be a good idea to restart VEGAS between adjustments to see the true effect.
13. TEMPORARILY BYPASS OR DISABLE EFFECTS
Bypass effects by clicking the "Split Screen View" button above the video preview > "Select All":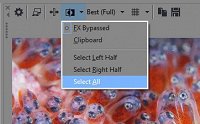 Disable effects on events, tracks or the video output by un-checking the effects in the "Video Event FX" window. For example: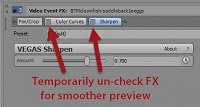 Don't forget to re-enable effects before you render.
14. USE VEGAS-FRIENDLY FORMATS / INTERMEDIATES
If you have the option, consider recording more VEGAS-friendly source-media formats. If you can't record such formats, consider transcoding to such a format for use as digital intermediate files.
For example Sony formats such as XAVC Intra and XDCAM work well with Vegas, and MPEG2 and AVC are well supported. Formats with intra-frame compression often play more smoothly than formats with long-GOP compression as your hardware generally has to work less hard to decode them. For example a UHD 60p HEVC file may stutter badly in Vegas, but an XAVC Intra file with the same resolution and frame rate may play smoothly and lose negligible quality from the original.
In some cases it may be acceptable to you to reduce resolution and/or frame rate of your media. Otherwise you can use a proxy workflow as described in section 9 above.
This post lists some formats that don't work well with VEGAS and some converting applications that can be used to transcode media. You can of course transcode the media within VEGAS.
15. DISABLE SO4COMPOUNDPLUG
VEGAS PRO 15 has a new decoder for XAVC-S files and some AVC files. If your footage is being opened by this "so4compoundplug" decoder, you might get improved performance by disabling it. See this post for more information. If not then re-enable it for wider format support.
16. UPGRADE YOUR COMPUTER
Your media storage might be a bottleneck if your files are particularly large, for example 4k files with low compression. Consider using an SSD or RAID for your media files with a higher read speed than a regular HDD.
Ultimately your computer may not be powerful enough and an upgrade to your CPU, GPU etc. might be required to play back your timeline at the full frame rate, or at least allow you to edit the original media without building proxies.
17. MINOR TWEAKS
These may have a small effect on playback speed:
Try setting "Options" > "Preferences" > "Video" > "Thumbnails to show in video events" > "None", especially for multicam projects.
Make your preview window smaller.
Turn off "Scale Video to Fit Preview Window" (right click on the preview window).
Zoom in on the timeline, so that less video has to be buffered
 
[ Keywords: stutter stuttery jitter jittery choppy smooth fluent playback preview lag skip dropped frames ]