Although VEGAS will open and play many media formats with its native decoders, other types of media cause issues such as:
Additional codecs must be installed
The media opens but appears corrupt (e.g. black frames, green frames, artifacts)
Only the video or audio stream is opened
Media simply will not open

If your video opens in VEGAS but appears corrupt, first try disabling GPU acceleration. See #4 in this post.
If your video is simply "stuttery" when you play it in VEGAS (i.e. It does not play smoothly), but otherwise looks OK, it should render correctly. See here for tips on smooth playback in VEGAS.
Use MediaInfo to help identify the properties of your media and how it was encoded.
1. GAME CAPTURE AND SCREEN RECORDING SOFTWARE
Vegas was originally designed to work with camera footage. Many game capture and screen recording programs generate video that does not decode smoothly in VEGAS. Some of them use non-standard codecs or file containers. Amongst those programs known to cause problems in VEGAS have been:

If the program can record using different codecs then try them. H.264 (AVC)/AAC in an MP4 container is a good place to start, if the program supports it. Various VFW (.avi) codecs will work OK if you install the appropriate codec (see below).
Alternatively, OBS Studio is a free, open-source screen-recording application that records video using the x264 codec. It's recommended to update older versions of OBS to the latest OBS Studio. See this FAQ post for advice on settings that work well with VEGAS Pro.
2. OTHER "PROBLEM" FORMATS
These formats have been known to decode incorrectly, slowly, or not at all in recent versions of VEGAS:

The following would not open correctly in VP14 and earlier, but open correctly in VP15 and later:
AVC High profile 4:2:2 footage as shot by the Panasonic GH5 and some JVC cameras (try losslessly converting to MXF by this method or converting with Sony Catalyst Browse - see below (lossy))
iPhone/iPad footage (H.264/.MOV)(try rewrapping to .MP4 with FFmpeg)

3. QUICKTIME
Quicktime files have the file extension ".MOV". VEGAS Pro 14 and later versions read ProRes formats natively, and some other .MOV files containing H.264 (AVC) video will also be read natively by VEGAS. In addition, VEGAS Pro 15 reads iPhone and iPad formats natively. However many Quicktime formats still require Quicktime for Windows to be installed. It is no longer installed automatically with VEGAS.
In VEGAS Pro 17 and later, you need to enable the Quicktime plugin in Options > Preferences > Deprecated Features.
4. CINEFORM
The free Cineform VFW (.avi) and Quicktime (.mov) codecs are installed with GoPro Studio which is now part of GoPro Quik Studio.
5. OTHER 3RD-PARTY CODECS
Here are some other common video codecs that you might require to play your footage:

Videohelp.com is usually a reliable and up-to-date source for codecs.
6. DISABLE SO4COMPOUNDPLUG (VP15 AVC / XAVC-S)
VEGAS PRO 15 has a new decoder for XAVC-S files and some AVC files. This codec may cause issues such as 2 x stereo tracks decoding as 4 x mono tracks, small audio sync discrepancies, poor performance, or hanging. If your footage is opened by this "so4compoundplug" decoder then you can try disabling it. See this post for more information. If that doesn't help then re-enable it for wider format support.
7. BYPASS COMPOUNDPLUG CODEC (MP4 TRICK)
This workaround may be particularly effective if your MP4 file was created by a different application or device and is missing its audio stream in VEGAS. It has also been known to help with NVIDIA ShadowPlay files that do not open correctly.
Many MP4 files are read in VEGAS by the compoundplug.dll codec. You can verify this by looking at the "Plug-In" section at the bottom of the VEGAS file Properties window (accessed by right-clicking on a file in the VEGAS Explorer window then choosing "Properties", or right-clicking on a video stream on the VEGAS timeline then choosing "Properties" then "General" tab).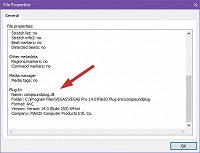 You can trick VEGAS into using the alternative mcmp4plug2.dll codec instead, which might give better results, by renaming the compoundplug folder, found here:
VEGAS Pro 15: C:\Program Files\VEGAS\VEGAS Pro 15.0\FileIO Plug-Ins\compoundplug
VEGAS Pro 14: C:\Program Files\VEGAS\VEGAS Pro 14.0\FileIO Plug-Ins\compoundplug
VEGAS Pro 13: C:\Program Files\Sony\Vegas Pro 13.0\FileIO Plug-Ins\compoundplug

Close VEGAS, rename the folder to something like compoundplugRENAMED, then restart VEGAS and try opening your file. If it opens more successfully, I recommend rendering it to a new file with VEGAS, for example using the Sony AVC/MVC or MainConcept AVC/AAC renderers. Then close VEGAS, restore compoundplug to its original name, restart VEGAS and use the new file. Do not just leave compoundplug renamed, as it will affect playback and compatibility of many other files.
8. HAPPY OTTER SCRIPTS IMPORTASSIST
The ImportAssist script within Happy Otter Scripts can be used to process many types of troublesome footage so that VEGAS can open it properly. The least lossy method is to re-wrap footage to a new container, but it can also be used to transcode to another format, convert variable frame rate to constant frame rate, trim frames etc.. Discussion thread on this forum is here.
9. OTHER CONVERTERS
If you need to convert (transcode) your file so VEGAS can read it properly, you can also try these:

10. RE-WRAP MKV TO MP4
The MKV container is not supported at all in VEGAS. Instead of converting the video by re-encoding, try re-wrapping to an MP4 container. You can use MP4Box, Avidemux, an FFmpeg GUI, or the following FFmpeg command line:
ffmpeg -i "input.mkv" -c:v copy -c:a copy "output.mp4"
11. FFDSHOW
ffdshow is a DirectShow and Video for Windows (.avi) codec with support for a wide range of audio and video formats. If you cannot find an individual codec for your media, and you prefer not to convert the media, you could try installing the 64-bit version of ffdshow from here. Although some users use ffdshow for "everything", for VEGAS it's recommended to only enable the particular decoder you need. It's highly recommended to take an image backup of your system drive before installing this, or at least to set a Windows system restore point. If ffdshow doesn't help, uninstall it.
12. CODEC PACKS - LAST RESORT ONLY
Codec packs can cause major problems with Windows and video software and can be difficult to completely remove. They should be avoided if possible. It's usually better to try installing the individual codec required if you can find it. As a last resort you could try installing a K-Lite Codec Pack. Again, it's highly recommended to take an image backup of your system drive before installing this, or at least to set a Windows system restore point. If the codec pack doesn't help, uninstall it.
13. CORRUPTED FILES ON SD CARD (AVCHD ETC.)
If you can't open some files that were recorded to SD card, you may be able to recover them. For Panasonic (and maybe Canon) cameras, try AVCCAM Restorer. For Sony cameras, try Memory Card File Rescue. Piriform Recuva can recover deleted files.
14. IF YOU NEED FURTHER HELP
Start a new post with this information:
Tell us exactly which version and build number of VEGAS Pro you are using.
Tell us how your source media was generated (i.e. what camera or program) and what format/codec was used (if you know).
Post the MediaInfo text report of your source media.
Post the VEGAS Files Properties of your source media (the MediaInfo guide linked above shows you how).
If the media is not too large you could post a link to a sample of it, for example on Google Drive or Dropbox.
Submit a support request, including as much detailed information about the problem as you can.

14. RELATED POSTS