Hello together,
since some Vegas Pro users where asking for the tools I wrote for Vp13 and before, to be ported to Vp14 I will provide then here in this thread.
FadeMinFrames_Vp14_V202
This tool allows to eliminate the audio-gaps at the begin and end of the video-files from Panasonic digicams. In a second step you can select the number of frames that the event should overlap to get smoother transitions.
Initially released for Vp13 V2.01 18.Aug.2016
V2.02 for Vp14 19.Feb.2017
Update 19.Nov.2019 to FadeMinFrames_Vp14+_V211.zip
Audio L-cut function added. Select the audio-track before starting the action.

ShowEventLength_Vp14_V2.00
This is a custom command with the functionality of CC_ShowEventLength as provides by Gilles PIALAT – 15/02/2008 usable for Vegas Pro 13, that I derived from my ShowRecDat to have the event length information in a separate floating or dockable window for Vegas pro 14.
V2.00 for Vp14 19Feb.2017
ShowEventLength_Vp17_V2.1.zip for Vp17+ 18Dec2022
DataNameClips
This is a stand alone tool to change the filename of many kinds of video clips to the recorded start-time and date. For DJI *.MP4 clips it also allows to use the GPS data.
Edit:
V2.07 Updated to support DJI Osmo Pocket and allows to adjust UTC time stanp
DateNameClips_V205_Nov16.zip uploaded 27.Jan2018
DateNameClips_V207.zip uploaded 16.Jun2020
RouteAnimation FX V1.02
It allows to interactively draw route points on a map or picture  and display them animated in the event. This is to be used as an event FX and is to be installed as a DirectX DLL. Details are contained in the *.zip. Even though it is quite old (started in Jun2010), it is still working with all new versions of Vegas pro and even MSP. For Vp15/16 installation hints, please see these posts. Here is a sample of the FX in use: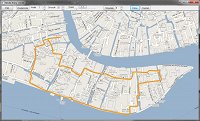 A very good tutorial for installation and use can be found here.
RouteAnimationX64_V1.02.zip uploaded 11.Nov2018
ExportMarkerSFL
This script tool allows to exporrt markers to be used for DVDA and Drax as described in this thread. I have added it to the location of the link below.
On request I added links to these two separately hosted tools also here:
ShowRecDat - Display and use recording data within Vegas pro
Please find details to this Vegas pro extension here.
AddMercalli - Mercalli V4 Automation
This Vegas pro extension now contains support for the new Vp17 internal event level stabilization. Details can be found here.
If I feel any other of my tool could be of any help to others, I will add them here to this thread.

These tools are for free but with no obligation of any kind to me.
The zipped files can be downloaded from this location using the password : '02Oct2022' (without quotes - do not use cut&paste)