By helping a member on our Dutch forum I discovered something I did not know.
Was this unknow or can I somewhere reed things about this?
The problem was , and many times here mentioned, that more than a certain amount of mov files freezes Vegas and crash the program afterwards.
In my case it was from the 18th event that was added, caused that one was a green screen and the next ones were black and Vegas could not play the ones that were already accepted and than the program crashed.
That happened in all my Vegas versions VMS 10-14 and Pro 10-14.
In Vegas Pro 15 no problem at all, I could at once add 30 files and again and again without any problem.
I discovered that the way VPro 15 handled those files is different from all the other versions: the so4compund plug was used for decoding the files and in stead of a variable framerate of ~~ 30, VPro 15 say constant framerate is 30 fps.
Is this the reason there are no problems in VPro 15 ? It seems so.
Here are the file properties in all the earlier versions, incl. VMS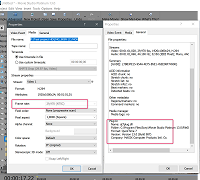 and this are the file properties in VPro 15