The Background:
Seven Mathematically Lossless Codecs - 2011
A second round of tests in 2012, those designed to test visually lossless YUV codec, resulted in a default quality victory by Sony YUV, which surpassed Cineform, DNxHD, and some AVI/MOV codecs running in Y'CbCr space. For that reason, the remaining tests were curtailed until a number of folks here kept saying Magic YUV is better.( ProRes 422 wasn't available for testing during that time.)
A New Kid on the Block
Enter Magic YUV stage left. In terms of chroma accuracy, it is better than Sony YUV* and very near to uncompressed. Its speed and size comparisons to other lossless intermediates have been favorably reported. Unless one is actually delivering 10 bit HDR, the Magix 10 bit version shoul not show any advantage over the free 8 bit version.
*[See qualifiers in posts below /]
And the Winner Is...
CLICK ON LINKS TO DOWNLOAD FULL RESOLUTION IMAGES FROM DRIVE
Magic YUV (RGB)
https://drive.google.com/file/d/1UzWWS7zzQpRRUl6TSOatbqPkjno9TNLK/view?usp=sharing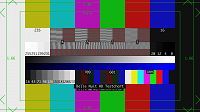 Uncompressed (Reference)
https://drive.google.com/file/d/1kqcpcRnvDAFBxngLpf7btyosSPKfR4Ar/view?usp=sharing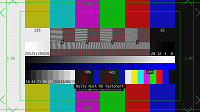 Sony YUV (422)
https://drive.google.com/file/d/13OWtjEpk4BTpcnc1Xyax-DgG9MOthlCK/view?usp=sharing