Yet another test in search of a problem, ...
Throw this movie on your streaming provider or home media server. See how it holds up; glitches or slowdown in your playback stream are way too obvious. If it messes up on your local player, you have a problem. It is true 60p, not NTSC.
Download will take a little while, smallest usable size was 144 MB, for those who may not be interested in waiting. [edited /]
https://drive.google.com/file/d/1RjBjUJuMklo3XyLyHCGmoHcySyqZkhkz/view?usp=sharing
For clarification, this is what a single frame looks like: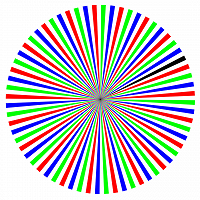 This is how it will look when played at full, locked-in 60p. Any color to your eyes indicates slowdown, lag, or stutter.