Probably useless, but I had the Photoshop assets from another project, so here it is.
Convert 1080 59.94p to 59.94i (29.97i).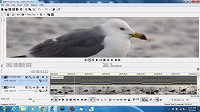 Just add your media to bottom track, extend (don't stretch) the top track to project length, and render AVCHD 60i.
10 sec. sample media is included. Since shutter speed is faster than would be 30p,, a tiny bit of motion blur would tame the extra legs. Also included 480i PSD masks.
https://drive.google.com/file/d/1V5ndhDbmMMK89SQ5LRG45YW72qck5_MN/view?usp=sharing