During the start of Vegas Pro 20 build 214 I have problems to load the VST-plugin just as shown in the attachment.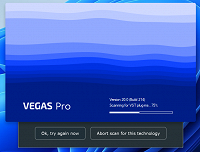 Clicking the message: OK, try again, solved the problem after some searchtime. The problem is not always but often. The installation of Vegass Pro was completely standard, I didn´t change anything.
Perheaps good to know that I have also Soundforge Audio Studio 16.1 installed.
My system: Windows 11 22H2 build 22621.963, videocard nVidia RTX3080 en 64GB ram.
Thanks in advance for any reaction,
kind regards,
AllieB