I am using Movie Studio 17 (although I do not think my issue is version specific). I have this "ring" around my video where the edges are "ghosted" and I want to get rid of it.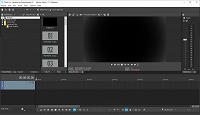 I started with a jumpstart template from version 15 (Time for Adventures in case you are curious). I want to use the template because I love the effects, except this ghosting that I am seeing.
As an experiment I started with the template, removed every track, then inserted one Video track. As you can see in my screenshot the edges are still "ghosted" which makes me think the effect is some type of "overall project" effect.
Anyone have any ideas of where it might be coming from? I would love to get rid of that effect.
Thanks!
ssafm