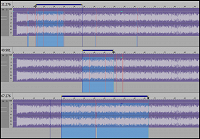 I alsways do edit my work in Vegas 19 but the last update for 19 introduces problms with many audio plugin.
The do crash or vegas itselef crash and freezes. It is with all kind of plugs but It is not workable with audio.
Than I updated version 20 but it is the same and also very slow when selecting a part on the timeline. This only happns when plugins are atcivated, see the image.
Without plugins for audio no problem, but with pliugins enabled Vegas crash freeze and selection is unworkable slow.
You drag selection with plguin active and then mouse not responding for second, gaps in selection apear, all the things s low. When plugins not active everything is super quick
Also a lot of gaps and erorrs appear on my screen see image, when selecting audiotrakc with the plugns active.
Only with aduio plugins and only in last vegas 19 and 20. this is a large problem for my work related actions
I see other with same problm but all the trick not work. Also new video driver and ahppens on two different system in my house.
A collegue has also lots of problem but he can not help and have no subscribe and i am on 365 account for a year now,