OBS Studio is a free, open-source application for video recording and live streaming. It is very popular for screen-recording gaming sessions, tutorial videos etc..
It is important to choose the recording settings carefully if you intend to edit the recorded videos in VEGAS Pro. Many formats that OBS Studio can record, will not open or play well in VEGAS. However, when done correctly, videos recorded by OBS Studio are more compatible with VEGAS than many other screen-recording options.
1. OUTPUT SETTINGS
Make sure the Recording Format in the Output settings is mp4.
These output settings work reliably for me. I changed very little from the default values. These settings use the Simple Output Mode to record AVC video in an MP4 wrapper using the x264 codec with a crf (constant quality) value of 23, which is the x264 default: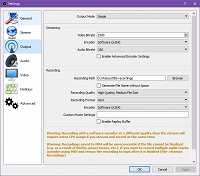 If quality is very important to you, and you can tolerate larger files, you could try setting the Recording Quality in the Output settings to "Indistinguishable Quality, Large File Size", which uses a crf value of 16. Note that quality increases as the crf value decreases, however it is generally not worth using a crf value lower than 16, as the quality gains are very small.
If you have a GPU that supports hardware encoding such as NVIDIA NVENC or AMD VCE, then it is generally OK to use that instead of Software (x264) encoding, but be sure to still use the mp4 recording format.
If you still have problems with the above settings, NormanPCN proposed some alternative settings in this post "that have a lower decoder overhead for edit performance than commonly used settings". You need to switch the Output Mode to Advanced to access these settings.
Also in the Advanced recording mode you could try setting Tune to animation if you are recording gaming.
2. VIDEO SETTINGS
Any settings you use on the Video page should not make your recorded videos "incompatible with Vegas", but of course higher resolution and higher FPS (frames per second) values will increase the load on your computer during playback. These are my regular Video settings for screen-recording demonstration videos: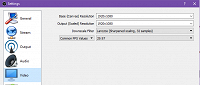 3. IF YOU STILL HAVE PROBLEMS
If you have trouble opening or playing back videos recorded with OBS Studio, despite the above advice, then please make a new post on the forum with this information:
The exact version and build number of VEGAS Pro you are using.
The OBS Studio Output and Video settings you used.
Your graphics card model and driver version (if you used hardware encoding)
Other computer specs, in particular Windows version, CPU and RAM.
A MediaInfo text report of your recorded file.
The VEGAS Files Properties of your recorded file (the MediaInfo guide linked above shows you how).
If the media is not too large you could post a link to a sample of it (e.g. on Dropbox, Google Drive, OneDrive, mega.nz, wetransfer.com or mediafire.com)