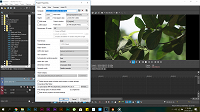 So I was playing around with VEGAS Pixel Aspect Ratio that turns the video into wider view, making the ratio somewhat 21:9 like cinema aspect ratio. But I often do it manually by changing the width and height of the main project. Since VEGAS has this simple toggle button for me to choose the pixel aspect ratio, this save me lot of time.
But doesn't matter I do it either manually or by using the pixel aspect ratio, my video that was shot on 16:9 will remain its original aspect ratio. Is there any method or trick to make the whole video in timeline change the aspect ratio base on the project settings? I have to manually change the video aspect ratio by using Pan/Crop. I set mine 1920x810 which is roughly to 21:9 aspect ratio.
If I'm not mistaken, entire video sequences in the adobe premiere timeline will automatically change its size base on the project setting.