So in Vegas Pro I've always had an issue where the text itself is pixelated around the edges. I've tried so many things and am still unable to fix this issue. Any help would greatly be appreciated. I'll attach an example below.

So I rendered that using 1080 video and 1080 text.
Profile: High
Field Order: None
CBR 50mbps.
Ref Frame: 2
Encode: Cuda
Mainconcept MP4
Here is the local file image not uploaded to Youtube, only processed by Vegas.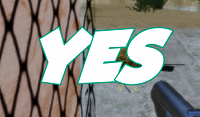 I'd appreciate any help. This has been an issue for way too long.