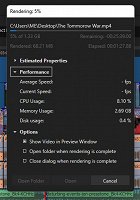 I'm wondering why would vegas use only 8% of the CPU and around 2.7 GB from memory in rendering which make it take more time..
I have Intel i9 12900K / RTX 3080 12GB / 64 GB Ram / Windows 11 Pro
Render settings: AVC Internet 1920x1080 24p 16Bit
is this normal? it took 30 mins to render the video.. is there a way to make vegas use more CPU and more RAM in rendering? The video i'm rendering is 11 mins video work.