Hi all,
I've been a Vegas user since version 4. Over the years, new features and functions are added with every new release. From it's earliest beginnings to an audio editor to transforming into a full-featured powerful NLE. There is one feature that's been unchanged for almost a decade is their waveform & vector-scope displays. You must be thinking what's wrong with those displays? I would like to show how the displays can be improved and what's currently lacking.
Here is a RGB parade display. Notice those interlacing black lines? The RGB parade would look a lot better if it didn't have those missing lines.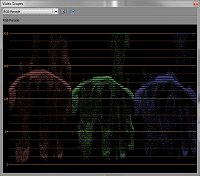 Here is a RGB parade from a competitor. Much more vibrant and easier to see information compared to the dim, "8-bit graphics" look from Vegas.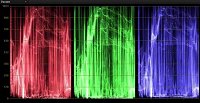 Would like to see the RGB overlay option. Easier to make finer white-balance adjustments than having all 3 channels displayed separately.
What would I like to see implemented into future versions of Vegas Pro? Here is an old-school waveform monitor from Tektronix with it's various controls. Let the user have the ability to adjust the "intensity" of the waveform. It can be bright or dim according to the users choice. I would love it if the software engineers can implement an "intensity" adjustment to all the waveforms such as RGB parade, histogram, Waveform, and Vector-scope.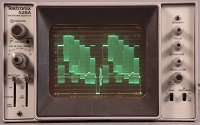 The Vector-scope can use a bit of a make-over. Not only allow an "intensity" adjustment, BUT the ability to add -I & -Q lines. Here is an example: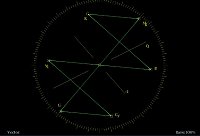 In particular the -I line is very important as EVERY skin tone falls right on that line. It's very helpful to have this line implemented in future versions to aid in colour correction.
Summary
ability to increase or decrease the intensity of all the waveform displays (RGB, Vector-scope, Historgram, etc)
add -I and -Q lines for the vector-scope
make the waveforms in full resolution. Looks 8-bitish. The intensity dial would fix this.
add an RGB overlay display.
add a variable magnification feature for the vector-scope. For example adjustments from 1x to 20x. Graticule should stay a fixed size.
It's been well over a decade the scopes in Vegas remains unchanged. Let's see Magix and the team from Madison improve this aspect in their product.
FTech