I've been part of discussions about this subject for so long that I've recently begun giving one word answers when the uninitiated Vegas user becomes irate that he/she has to think about it. To atone for my sins, I decided to create the following projects that run on Vegas Pro 14 and up.  Download all projects and assets from here: 
Download Link Here:
https://drive.google.com/file/d/193FRYiw_21_WTsTz__zHKgwdrLFLowJU/view?usp=sharing

In this package are five Vegas Pro projects as follows:
Levels Starter - 14 Up.veg
This project contains a transparent .PSD file with vertical bars that are 
000,000,000     011,011,011     016,016,016
a transparent area that exposes 50% of the area center screen for your media to show through when placed on a track below.
235,235,235     240,240,240     255,255,255
Add Your Media, Render without fX.veg
This project is set up with no fX so that the user can render it to any output type and the effects on the color bars and the video will be exposed. Use the Waveform and/or Histogram to view with the Preview set to Best (Full).  
Computer to Studio RGB Levels fx on Output Buss
As the name suggests, the levels are adjusted by one fX that operates on all the video on the timeline.
Adjust Levels with Color Curves.veg
This project wrangles the generated media into Studio RGB (16-235) range with Color Curve fX on the individual clips. The included video that came from a Sony RX10IV (16-255) is brought into the Studio RGB safe range with a Color Curve on the clip. 
Play This in Your Player.veg
This project brings all the rendered files from the other projects together so the user can render for upload to YoutTube or do further analysis in her player.

With the correct levels for the output wrapper and codec one should see a distinct difference between 000 and 016 as well as 016 and 018. One should also see a distinct difference between 235 and 255. Less so between 234 and 235.  Like this: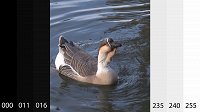 You may view the last project on YouTube here:


Big Note!
Only the section with the Levels / Computer to Studio RGB filter applied and the section with Color Curves applied at the clip level will expose the differences in the blacks below 016 and the whites above 235.
Change Log:
2020-04-30 Changed the values of the color bars below 016 and above 235 to make the differences more apparent. 
Updated files to reflect color bar changes.

Added ReadMe.TXT and ReadMe.rtf to the file package.