Hi,
I was told to use to follow these steps:
Never ever ever use h264/5 directly from davinci or any other nle. The result is good in most of them, but not the best. If u are using grain, it's worse.
Do DNxHR 10 or 12 bits.
After that, hand brake using h264 or 5 in 10 bits with GRAIN seated on encode tune option. RF on 18 or less.
Sample: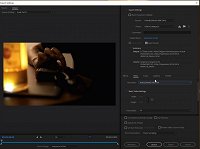 As my NLE is vegas V17, I need to copy what they want.
The only option for me to use DNxHR is if I select Quicktime 7, and then Video fromat to DNxHR....but the file name will be a MOV file. In their screenshot it's a mxf file.
I went ahead anyway and created the MOV file with the DNxHR codec but when I bring it into Handbrake nothing happens..as if it can't read the file..I also tried renaming it mxf.
Any ideas?
Thanks