IMPORTANT!: VEGAS Pro 18 introduced changes in how levels are handled. See this post for more information: VP18 - Notes on the 8 bit full level option
Does your Vegas preview show less contrast than when the video is played back outside of Vegas? Does the Vegas preview look a little "washed out", without deep blacks or bright whites, like in this example?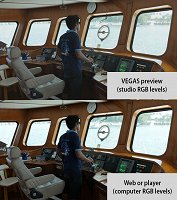 Or does your Vegas preview look correct but the rendered video has too much contrast, clipping detail in the shadows and highlights?
1. BACKGROUND
In 8-bit projects, VEGAS decodes many common video formats (including HDV, AVC etc.) to studio RGB levels, and displays that in its preview window. Players such as Windows Media Player and the Flash-based player used by YouTube and other web video platforms usually decode video to computer RGB levels and so you'll see more contrast. In effect Vegas is only displaying within 16-235 of a full 0-255 range, where 0 is black and 255 is white on your display. More background information here: http://www.glennchan.info/articles/vegas/v8color/vegas-9-levels.htm
Many NLEs attempt to handle levels conversion automatically. VEGAS does not, which has benefits as well as disadvantages.
2. DISPLAYING WHAT YOU WILL GET
To get a "what-you-see-is-what-you-get" preview in the VEGAS preview window for such a project you can do one of these things:
Click the "Video Output FX..." button above the video preview > VEGAS (or Sony) Levels > Preset > Studio RGB to Computer RGB. You must remember to remove or disable this FX before you render or the effective extra contrast will be doubled.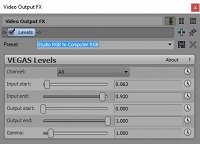 Install SeMW Extensions. Enable its Preview levels extension (Tools menu > Extensions), which will put a new dropdown menu above the Vegas preview window. In that dropdown menu choose "PC". You can safely render with that set, as it applies to preview only.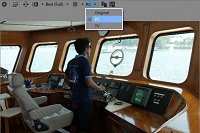 If you monitor on a secondary monitor, you can display computer RGB levels on it as follows: Options menu > Preferences > Preview Device > check "Adjust levels from studio RGB to computer RGB":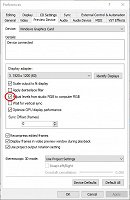 You should not check this if you have used one of the 2 methods described above to adjust the levels in the preview window, or you will wrongly double the extra contrast.
3. "LEGAL-BLACK" UNDERLAY FOR CORRECT TRANSPARENCY CALCULATIONS
Note that if you use compositing in a video that uses media that decodes to studio RGB levels, or have fades or cross-fades, the level calculations will not quite operate correctly. You should put a solid color event from the Media Generators window on a track below the lowest unmuted video track. The color of this should be RGB 16,16,16 (actually very dark gray). Since direct RGB input was removed in Vegas Pro 11, the most accurate way to set the color of generated media is to enable "Fixes" in SeMW Extensions and manually type "16/16/16" in the "Color" box. Alternatively you can type "0.063, 0.063, 0.063". In either case it will only show "0.06, 0.06, 0.06, 1.0" after you have done it. You can save it as a preset.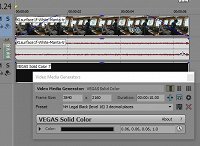 4. IT STILL LOOKS WRONG!
The above guidelines are simplistic, and you may still not get the result you want. It is not an "auto levels" type of magic fix. In particular, white levels may be clipped ("blown out") if your camera shoots highlights above level 235, as many do.
If your camera shoots the full range from 0-255 then a crude but effective fix to stop excessive contrast and clipping in a rendered video is to add a Levels FX to the event(s), track, or video output and select the "Computer RGB to Studio RGB" preset (i.e. the opposite of the "monitoring fix" in section 2 above), and leave that FX enabled when you render.
The best solution within VEGAS Pro is to learn how to color correct in conjunction with reading and understanding the video scopes, so you can set your black and white points etc. correctly. There are several FX tools in VEGAS that can be used for fine control.
Tip: Just Color Picker is a good app for testing what levels your rendered video is displaying. For example you can pause a YouTube video and literally sample what RGB values the black and white areas are from your display.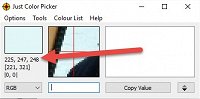 5. RELATED POSTS