Hi all,
We just pushed out version 4.21 of CuminCode FrameServer a few minutes ago. You can try it out from https://www.cumincode.com/frameserver/
This version comes with 2 new, big features:
A "virtual uncompressed AVI" capability, which is the default setting. The frameserved video appears as an uncompressed AVI in the file system, so it can be opened by any NLE/encoder easily. We tested with Resolve, TMPGenc, Resolve, ffmpeg and many others. These didn't open the AVI produced by previous versions of FrameServer.

With this option enabled, the frameserver files now appear under "c:\ccfs\virtual" folder.

Set a command to run automatically on FS start, and close FS when the command finishes. This is useful to run an encoder such as ffmpeg. FrameServer doesn't ship with any such encoders and you'll have to get ffmpeg or other software separately, but you can simplify your workflow by chaining CCFS with them easily.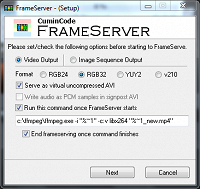 If you already have a license to CuminCode FrameServer, you'll get these updates for free. The next release will likely include FrameServer plug-ins for Resolve and After Effects.
Thanks to @wwaag and Marco for helping with testing this release.
Do you have any feature requests for FrameServer? What can make your render workflow simpler/better/easier ?
- Poz