Hi,
when I render a UHDp30 (30/1001) Clip using the Intel HEVC Encoder with this template,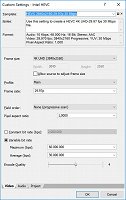 playing the output with MPC-HC or the Windows 10 internal player the clip is stuttering. I just repeated rendering this with the DPI setting to default and the actual Intel HD530 driver from Microsoft (file P3pro_Vp14_NoDPIadj_UHDp30_Intel-HEVC_30Mbps.mov). Rendering the same clip with Vegas pro 13 and Handbrake 1.0.1 using also the Intel H.265 Encoder gives an output that runs as smooth as the original H.264 clip.

I have uploaded these rendered clips to my online storage, that can be downloaded here :

https://www.magentacloud.de/share/od392s20g4

 with the password :  02Jan2017   (without blanks)
Any idea what I can change to get a smooth HEVC output directly from Vp14?
Thanks
Peter