There are several places to get assistance with VEGAS Pro.
1. THE HELP MENU IN THE SOFTWARE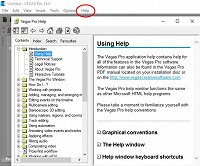 2. THE MANUAL
See this post to find links to download VEGAS Pro instruction manuals in PDF format. The information should be nearly identical to the help in the software.
3. THIS FORUM
Start with the VEGAS Pro FAQs.
4. VEGAS HELP CENTER
You can access technical support for VEGAS software via the VEGAS Help Center.
5. MAGIX SUPPORT
The MAGIX Support site covers purchasing, downloading and activating etc..
6. ONLINE LIVE CHAT
Pre-sales and registration help is available via online live chat from Monday to Friday, 12pm-4pm U.S. Central Standard Time. Go to https://www.vegascreativesoftware.com/us/support/ and click the chat bubble in the bottom right corner.
7. THE LEGACY SONY CREATIVE SOFTWARE KNOWLEDGEBASE
Sony owned and supported Vegas Pro up to version 13.0 build 453. Their "Help Center" articles about VEGAS products have now been removed but you can download an archive of them in this zip file. Some information is out of date for more recent versions of VEGAS. A few of the articles have been recreated on this site, with titles preceded by "(SCS Help)" (example).
8. TUTORIALS
See this extensive list of VEGAS Pro tutorials.
9. MAKE A SUPPORT REQUEST
Item #4 (above) will lead you to the Support Request form. When making a support request, take note of the following:
Include as much detailed information as you can about the problem.
MediaInfo and File Properties can be useful.
A link to online media samples and a .veg project file can be useful.
If VEGAS crashes and displays a Problem Reporting Service (PRS) window, send the error report to the support team.
Your support request should be automatically acknowledged by email with a ticket number and followed up by the support team later. If you receive no acknowledgment, check your email SPAM folder.
10. 3RD PARTY PLUGIN VENDORS
Here are the support pages for some vendors of 3rd party plugins bundled with some versions of VEGAS Pro: