I'm a sporadic user of Movie Studio Platinum (MSP), mostly to do videos of local theatrical productions. Recently I wanted to do a cookie cutter effect, which I have done successfully in the past with MSP12. I hadn't tried it with MSP15, build 157, which I upgraded to a while ago, until now. However, VEGAS Cookie Cutter doesn't work. I can add it to an event, and the window with sliders comes up, but nothing has an effect on my video. I can see the little crosshair on the video, and it will move around using the "Center" field or with the cursor, but nothing appears on my video.

I re-installed MSP12 and tried it on the same event clips, and it works fine.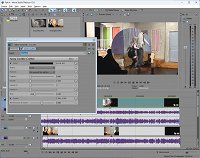 I tried a few other plugins, and they don't seem to work either. Is this broken in MSP15?
I have a 64-bit system, but the plugins are grouped as 32-bit. Could this be the problem? How would I fix this?
Do I have to pay to upgrade to MSP 2023 to fix this?