when i try to open vega pro 17.0
I get OpenGL ES Error "can't find the intel graphics card".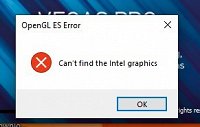 I also get 
Microsoft Visual C++ Runtime Library
Program: C:\program files\vegas\vegas pro 17.0\x86\sfvstserver.exe
R0634 - An application has made an attempt to load the C runtime library incorrectly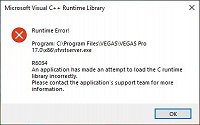 I get this error 2 times.
I think this might all have to do with my .dll files because i have a lot of .dll vst plugins for music.
Here is all the list:
C:\program files (x86)\vstplugins
C:\program files\vstplugins
C:\program files\common files\vst3
D:\downloads\music software\vstplugins
This pc is windows 10
I have a Nvidia GTX 960 graphics card
8 gb ram
CPU is intel core i5-6500
64 bit operating system
1 tb hard drive
111 gb ssd (windows operating system safed here)