I already sent 2 days ago a message to the Magix Service Center, got a Ticketnumber on which I wrote my problem and sent the same screenshots as I place here. What is the problem?
I deactivated my only on one desktop present VMS 15 Pl and waited till no activation showed up at my Magix account for that program.
Then I gave the program to my grandson who liked to play with action cameras and his hobby with horse riding and -jumping.
I asked also the servicecenter to delete that program from my account so my grandson could activate it with his emailaddres.
That went very quick, but
- when I now log in to my account I see only this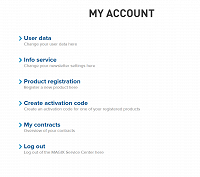 not 1 registered product.
- this afternoon I tried to open my VPro 17 that is registered and activated with my emailaddres and probably my activation was time to conrole and this was the outcome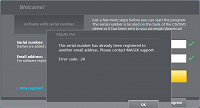 I think I can wait untill that screen shows up the coming days for my other programs when I try to load them on desktop or laptop.
I'm curious if I'm the only one and if I have in these days a long time to wait for the Service center to react and to clear this problem for me.
Hope that it will be still possible in a few days to stay joined on these forums.