For the past week or so Every time I want to RENDER the program crashes.
What happen is that I made a mistake by disabling "Write cache on device " in windows device manger.
The system then did NOT reboot and needed "Startup repair"
and since then the program does not render to HDD.
I Did reset settings by CTRL+SHIFT+LAUNCH
I did remove the program and reinstalling it 2 or 3 times.
and yet no render.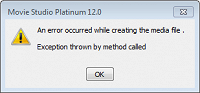 My system: MB: Z87
CPU: I7-4770
RAM: 32BG
GPU: GTX 1660TI
Windows 7 Pro.
As contacting Sony they sent me here: The MAGIX Software support team has taken over support for all VEGAS and Movie Studio products. To receive support for your VEGAS Movie Studio Platinum 12 software, you will need to contact their support team directly.