Hello everyone, everything good?
I've had a problem with Sony Vegas for a long time and I can't solve it, I already uninstalled the program, looked for tips on the internet and nothing helped. I am attaching 1 video that I recorded with my cell phone camera showing what is happening.
I have a games channel on youtube and my goal is to modify the games to try to make them more realistic, with the best quality and resolution as well.
But every time I record a video in 4k I'm having problems after I finish rendering it in the same resolution. It turns out that the video is all blurry and pixelated just like the attached video. I found that this is happening when the variable bit rate exceeds 60,000,000 bps at medium and 80,000,000 at maximum as shown in the image below.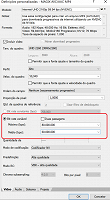 The problem is that to have a satisfactory quality for what I do, it would be necessary to render at least 100,000,000 bps on average in 4k, because I've done several tests and it really doesn't look good using a smaller amount. And I already use something bigger at 2k, at half this quality.
The strangest thing is that if I render a video recorded in 4k, in any other type of lower resolution and with any amount of bit rate, everything works normally, the recording does not have any blur. The opposite also works, if I record a video in 1080P or 2k and render in 4k, regardless of the bit rate, everything works normally. The problem with this is that I can't reach the quality I would like, it turns out that a video rendered in 2k has better quality than one in 4k, because of the bit rate. After all, my investment in the computer was to be able to run everything in 4k, record in 4k and also be able to render in 4k.
What can I do to try to resolve this issue and render my 4k footage at a decent bitrate, at least 100,000,000 bps or above, as well as the other resolutions?
If you can help me, I will be very grateful, because it is very frustrating to dedicate myself a lot and not be able to compete on equal terms with other people who do the same thing simply because of the editing program, after all I would like to try to present my work with the best possible quality.
I apologize for my English not being the best, but I hope you can understand.
Thank you very much in advance.
Att. Giovanni.