To start off, I tried using Vegas Pro 14 (latest version) today and it gave me a pop-up saying essentially it couldn't connect to the internet and I need a valid license. I turned off my wi-fi adapter and I was able to open it and work on my project. Then when I tried saving the project, it claims there was some sort of error and there is no internet connection and did not save the changes to the project. Unfortunately, I didn't think to screencap any of this. I also got a -29 error at some point.
So I thought maybe an uninstall, restart and reinstall would do the trick, but I can't even get it to reinstall and get this error: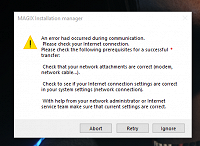 The only change I can think of that could have caused this error was changing the computer's name because the program was working fine yesterday and that was the day I changed the name. I don't remember the original name it had before I changed it. And just to clarify, the internet is working as I am posting this and browsing the internet with no problems. Any suggestions?
PC specs
OS: Windows 10 Pro 1903 build 18362.239
C drive: Samsung 970 EVO 500GB
CPU: i9-7940X
GPU: GTX 1080ti
RAM: 64GB Corsair Vengeance 3200MHz