The blue water looks fine in the MP4 or WMV source file (I tried both) but on the Video Preview the water is dark and blurry, and in the resulting rendering video, regardless of output format. I tried adjusting the brightness and contrast but can't simply get the original color of the water the man is swimming in.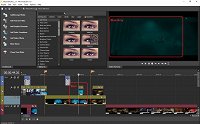 B - ESSENTIAL INFORMATION
1. VEGAS Version & Build
Vegas Movie Studio 17.0 (Build 178), Magix formerly Sony
Purchased from Magix.com
2. Windows Edition & Version
Windows 10 version 21H2
3. Camera/App that created your footage
The originals look fine, bright blue. Standard MP4 original. I also tried it converted to WMV. But is is dim and gray in Vegas.
4. Your Delivery Destination
MP4
5. Exact symptoms of your problem,
Same dull blue with Classic or Modern viewers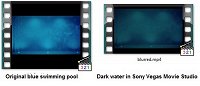 MPC-HC Classic viewer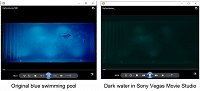 Windows 10 Media Player
Does the issue appear when playing your timeline, or only in rendered videos?
Both on timeline and rendered video
C - YOU WANT A QUICK ANSWER?
1. MediaInfo Report for your source footage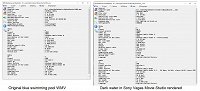 2. VEGAS Pro File Properties for your source footage
(see MediaInfo)
3. A Sample File
(see above)
4. Graphics Card Model
AMD Radeon HD 7000
5. Graphics Card Driver Version
Driver Provider: Advanced Micro Devices Inc.
Driver Date: 11/4/2015
Driver Version 15.201.115.1008
Digital Signer: Microsoft Windows Hardware Compatibility Publisher
6. Status of GPU acceleration of video processing
I tried both ON and OFF with same problem
7. Status of Enable Hardware Decoding for supported formats
If you are using VEGAS Pro 17 or later, and your media is AVC or HEVC, is
that setting ON or OFF, and which hardware decoder is being used? See
Options > Preferences > File I/O.
8. Project Properties
A screenshot of your Project Properties, like this:
9. Render Settings
If you have a rendering issue, what are your rendering settings? A
screenshot of your rendering Custom Settings window can help:10. More information about your PC
10. More information about your PC
Dell OptiPlex 790
Intel Core i3-2120
3.30 GHz
Service Tag: JGQD5V*
RAM 32.0 GB
E: DVD
 
Here is a different video of a pool showing nice bright blue colors for the water and sky. It is made from the same computer and same Movie Studio 17.