Open your MSP 13 (or Vegas Pro 13) to check if you get the (upgrade) offer below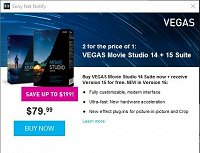 MS 14 P + MS 15 P $ 39.99 or MS 14 S + MS 15 S $ 79.99.
Valid until January 16, 2018.
("...please have the serial number for your previous version ready.")
http://www.vegascreativesoftware.com/us/upgrades-for-vegas-pro-and-vegas-movie-studio/ has this offer as well. Check the prices on your territory's version of that URL, including "de", "gb", "ca", "int" etc.