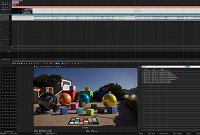 Accidently, I saw that my rendered video lost its regions and markers. 
It happened if there's no text content or I forgot checking this option:
Save project markers in rendered  media file. 
Now I'm 100% sure this is a unbearable BUG with these codes - the option is just deactivated there! 
AAC audio
Apple ProRes
MAGIX AVC/AAC MP4
MAGIX HEVC/AAC MP4
All the other 3ird party codes work fine but I don't need them. 
Please kill this bug, urgent!
This bug is also in VEGAS18. 
Frohe Weihnachten!