Hi all, I'm a new Vegas Effects user (recently bought Vegas Post) and I'm surprised about an issue on something that seems to be "basic".
I want to add effect by Vegas Effects on a subclip named Test:
I right click on my event on timeline

I select the menu "Edit in VEGAS Effects"
and the following error message is raised ("An error is raised while operation, file cannot be created"):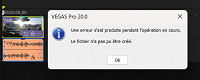 With events based on video file, no issue, Vegas Effects opens. But it doesn't work on subclips !
Is there something I miss ?