".mov" or ".MOV" is the file extension used for Apple Quicktime video files. While VEGAS Pro will play some .mov files using its native decoders, others still require Quicktime for Windows for playback. This often causes problems such as stuttering playback, unwanted artifacts, audio distortion, a luminance shift, or a simple refusal to open the video and/or audio correctly. Quicktime for Windows is 32-bit only and is now no longer supported by Apple.
In particular, files from Apple iPhones and iPads, as well as .mov footage from many cameras, devices and recording apps, would not open correctly in VEGAS Pro 14 and earlier. In VEGAS Pro 15 and later, more of these files are supported and will open correctly with the native codecs.
Quicktime is a format "container" or "wrapper" that can contain video and/or audio streams in various formats. In many cases the playback problems can be solved by losslessly "re-wrapping" the same video/audio streams into an .mp4 container that VEGAS Pro can decode using its native codecs.
1. VERIFY WHICH CODEC IS BEING USED
Right click on a .mov video file in the VEGAS Pro Explorer window, choose Properties, then scroll to the bottom of the window. The Plug-In Name identifies which codec Vegas will use to decode the file.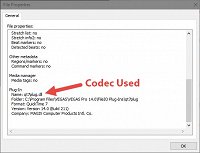 Properties are also available by right clicking on a file in the Project Media window, or a video event on the timeline, then choosing the General tab.
If the plug-in name is mxhevcplug.dll then the file is HEVC (H.265) or ProRes format and the conversion procedure below will fail (it will create an empty file).
If the plug-in name is compoundplug.dll or so4compoundplug.dll then VEGAS Pro is already using it's own native codec to decode the file and and the conversion procedure below is unlikely to help. It will fail if the audio stream is PCM.
If the plug-in name is qt7plug.dll then Quicktime for Windows is being used to decode the file. If you don't have Quicktime for Windows installed then there may be no Plugin section at all. In both these cases, look at the Streams section of the Properties. If the video stream is AVC or H.264 and the audio stream is AAC or missing, then the following conversion procedure is likely to help.
If the stream format is something else, such as PNG, Motion JPEG etc. then the conversion is less likely to help and may fail completely.
2. INSTALL FFMPEG
FFmpeg is a powerful, free command-line utility that can convert video and audio between a huge range of formats. While there may be other converters that can do this, FFmpeg does a very good job of it.
Visit http://adaptivesamples.com/how-to-install-ffmpeg-on-windows/ and follow the instructions on how to install FFmpeg. https://ffmpeg.zeranoe.com/builds/ defaults to the latest 64-bit nightly build, but it is safer to use the latest release build (which was 3.2.4 when I wrote this):

How-To Geek has more help on how to add the bin folder to your path in various versions of Windows.
3. CONVERT A SINGLE FILE
Open a Command Prompt and change location to the folder that contains the file(s) that need to be converted. There are many ways to open a Command Prompt; In Windows 10 I recommend opening the folder in File Explorer then choosing File > Open command prompt > Open command prompt. There should be no need to open a command prompt as administrator.
If the command prompt is not showing the location where your .mov files are then change to it by typing cd followed by a space then the correct location, for example:
cd D:\Media\
To convert a single file, type the following line, replacing "filename" with the actual filename, then press ENTER.
ffmpeg -i filename.mov -vcodec copy -acodec copy filename.mp4
If you have spaces in your filenames than you need to surround them in quotes:
ffmpeg -i "file name.mov" -vcodec copy -acodec copy "file name.mp4"
FFmpeg should then convert the file to a .mp4 version and leave the existing .mov file. The conversion should be extremely fast, as it is just rewriting the file header and not re-encoding the streams themselves. Test the new .mp4 file in VEGAS Pro to see if there is an improvement.
If you have a few files to convert, you could copy and paste that line into a text editor such as Notepad, change the filenames after each conversion, and copy and paste it into the command prompt.
4. BATCH-CONVERTING A WHOLE FOLDER
If you have many files to convert, or a regular need to convert, then you can create a Windows batch file to automate the process.
Download here, or open a text editor such as Notepad, then copy and paste the following text into it:
for %%a in ("*.mov") do ffmpeg -i "%%a" -vcodec copy -acodec copy "%%~na.mp4"
Save it as mov-to-mp4.bat or similar in the same folder that contains your .mov files. Then simply double-click this .bat file. FFmpeg should convert all the .mov files to .mp4 files, leaving the .mov files as they are.
5. USE AN FFMPEG GUI
If the above steps are problematic or daunting for you, you can use an FFmpeg GUI (graphical user interface) program instead of the command prompt. Very many FFmpeg GUIs have been written; Some are better than others, and some are no longer in development, so use outdated versions of FFmpeg. XMedia Recode works. On the Format tab choose MP4, and on the Video and Audio tabs choose Mode > Copy, like this:
However for converting many .mov files on a regular basis, nothing is as fast and straightforward as using a batch file as described in section 4.
6. HAPPY OTTER SCRIPTS IMPORTASSIST
The ImportAssist script within Happy Otter Scripts can prepare various troublesome formats for successful import to VEGAS Pro. It provides a GUI for rewrapping or transcoding media including iPhone files, and its installer handles installation of FFMPEG.
7. LUMINANCE SHIFT
Quicktime for Windows (via qt7plug.dll) decodes files in VEGAS Pro with higher contrast than VEGAS Pro's own compoundplug.dll. For example an iPhone 6 .mov clip decodes with black at RGB 0 and white at RGB 255. If left uncorrected before re-rendering, this results in excessive contrast and lost (clipped) highlights and shadows in most final playback scenarios. However after re-wrapping to .mp4 with FFmpeg as described above, the black level is 16 and the white level is 235. Effectively the conversion automatically corrects the levels for editing in VEGAS Pro, and is a welcome benefit. Further explanation here.
8. RECORDING FORMAT
If your camera or software allows you a choice of formats, then MP4 is generally a better choice for editing in VEGAS Pro than MOV. However if you want to record PCM (uncompressed) audio then you may have to choose MOV. But such files are generally decoded by native VEGAS codecs and not by Quicktime, so this may not be a problem. Test the choices and try to use one that does not use qt7plug.dll as the plug-in.
9. IPHONE HEVC (iPhone 7 and later)
HEVC footage shot by the Apple iPhone 7 or later needs to have its video stream re-encoded or transcoded, not just rewrapped to MP4. See this comment for details.
10. IF YOU NEED FURTHER HELP
Tell us exactly which version and build number of VEGAS Pro you are using.
Tell us how your source media was generated (i.e. what camera or program) and what format/codec was used (if you know).
Post the MediaInfo text report of your source media.
Post the VEGAS Files Propertes of your source media (the MediaInfo guide linked above shows you how).
If the media is not too large you could post a link to a sample of it, for example on Google Drive or Dropbox.
Submit a support request, including as much detailed information about the problem as you can.
10. RELATED POSTS