Hi guys!
Some of you may be aware of this. We've been talking on other forums forever but only a few people need this plugin to do this specific task so only a few know that it doesn't work the way it used to do (until version 10) when you crop an area in a non-standard shape (for instance a square in a 16:9 video).
I'll try to make it short:
- Import a video or a photo into the timeline;
- Go to Event Pan/Crop;
- Uncheck "Lock Aspect Ratio";
- Crop the video as a square;
- Apply the border plugin to this media;
- Select, for instance, the type Solid at 0,010;
- And here's what doesn't work. Until Vegas 10 (included) the border was following the square shape perfectly. Since Vegas 11 (and now even with the latest Vegas 15!), the border doesn't apply to the selected area but to the full rectangle.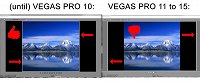 Here's everything in pictures:
VEGAS PRO 10 (working): http://imgur.com/a/ANp52
VEGAS PRO 11 to 15 (not working): http://imgur.com/a/hLhYL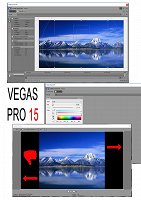 And if you want to try it out yourself, here's the project:
https://www.dropbox.com/s/3vn4uk5bhrg4fo1/test.zip?dl=0
There's no workaround and it should NOT be a workaround. It should work the way it worked until version 10 (with no tricks, just working!) because there's people using it as an important part of the job.
I contacted Magix more than once. First they didn't reply. After a while they said "try this workaround" but nothing, it doesn't work and then they said that it's fine and that it works...YES, SURE.
It's a shame because for this little, tiny plugin, I'm still stuck at Vegas Pro 10. But I can't move one, because that little plugin is essential with the work that I do. Not a huge deal because Vegas 10 works solid, but it's time to upgrade to enjoy the (few) new features and Magix doesn't want my money :/