Hello,
1)
I would like to make specific colors more or less saturated.
For example I would like to make green more green and blue more blue. Any other colours should not be changed.
I saw such solution in other softwares. Is it possible to achieve this in Vegas Pro 16?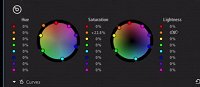 2)
What are the differences between color correcting and color grading? Is it the synonym or maybe there are some differences?
Please help me
Regards
Marcin