Despite the raw video files having the correct colours and the preview also showing the correct colours, whilst rendering the preview shows the incorrect colours and complete rendered videos have these same incorrect colours.
Game clip example: Fall Guys;
The preview shows the correct blue, green, red, etc.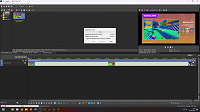 But whilst rendering and once render is completed the video is now orange, luminescant green, blue, etc. in place of the original colours.
This issue began after I updated my graphics driver to 22.9.1 (I have since updated again to 22.9.2 and nothing has been fixed).
I have tried changing colour values, adding effects and inversions, and nothing is working to fix the issue. Any help would be greatly appreciated.
Software: SONY VEGAS Pro 15.0
CPU: AMD Ryzen 5 3600 6-Core
GPU: Radeon RX 570
Driver ver.: 22.9.2
Win11Pro: 21H2