I prepared four videos for YouTube using different encoders with Vegas Pro 17-421. I wish to learn which encoders look the best to viewers. The playlist in the link below has four options, A-D. Each option has three sections that are clearly delineated by titles and sync tones within the video.
The first section of each option is High Complexity. High Complexity has much action with a great deal of fine detail. Examples: Swimmers splashing in water while the camera pans with crowds in the background. Camera panning across a grass lawn in a hail storm. You get the picture. I included everything except strobe lights and confetti.
The second section of each option is Medium Complexity. Medium Complexity consists of a fairly well lit stage play with the camera locked in one place while multiple subjects move around the stage.
The third section of each option is Low Complexity. Low Complexity consists of a white on black credit roll. While the text moves on the screen, the movement is uniform and might be predictable to the encoders.
From my YouTube site, select Play All on the playlist Encoder Comparison at the following link to watch all options:
https://www.youtube.com/playlist?list=PLSV9x8Yqu0m0so7mpvYxnFmnvpLM6I0DU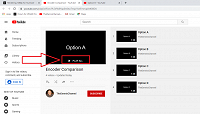 ****** or ******
The individual Youtube options are here:
Option A

Option B

Option C

Option D

Please watch and state your preference by option letter.
Edit: 2020-03- 25 Changed links to be more direct.
1659 Added Graphic.